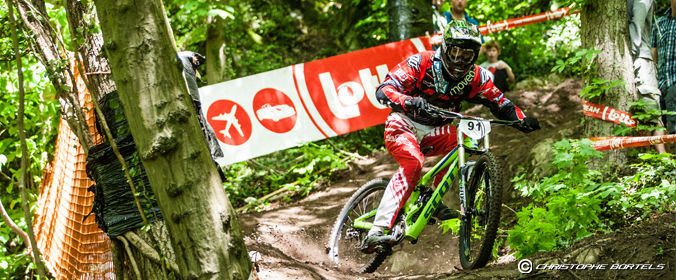 LOTTO DH1 Dinant 2016
Belgian Downhill Cup #2
Dinant : This is the 4th edition of a DH1 race on this young and promising track. Once again, we will make some improvements on the course.
Click here to download some important informations
Attention, as the arrival is downtown of Dinant, there will be two paddock areas.
Paddock Start : Rue de Montfat 5500 Dinant
Paddock Arrival : Rue en Rhée, esplanade Princesse Elisabeht 5500 Dinant. This one is only accessible for big teams and guests.
200 riders MAXIMUM. Only paid registration will be validated.Un-licenced riders under 18 years old, pay attention ! The federation will ask you for a medical certificate
* the race schedule is subject to change due to number of entrants
Course lentgh: 0,6 km
Course Vertical Drop: 110 m
Course time: 1,02,39 min Ludovic Oget
Course composition: 100% Forest, Rocky fast and demanding
Saturday:
- From 09:00 to 16:00 : Registration
- From 10:00 to 13:00 : Training
- From 14:00 to 17:00 : Training
- From 17:00 to 18:00 : Training TOP 30
Sunday:
- From 08:30 to 09:15 : Training Groupe A
- From 09:15 to 10:00 : Training Groupe B
- From 10:30 to 12:00 : Qualification 1
- From 13:30 to 15:00 : Qualification 2
Latest Videos
Race participants: 178 - Valid payments: 108
| | Nationality | Name | Registration Date | Club/Team | Category | Payment |
| --- | --- | --- | --- | --- | --- | --- |
| 1 | | Adrian Arthur Müller | 24/04/2016 | / | 1999 - 2000: Juniors | |
| 2 | | Adrien Jacquemart | 04/05/2016 | Commencal bike | 1998 and before: Elites | |
| 3 | | Adrien Remacle | 19/04/2016 | Xtreme gravity | 1999 - 2000: Juniors | |
| 4 | | Alan Bauschert | 20/04/2016 | SB Racing | 1999 - 2000: Juniors | |
| 5 | | Alexandra Casoni | 24/04/2016 | FR FAULX WAGON DH | Women | |
| 6 | | Alexis D'heer | 28/04/2016 | LOOSE RIDERS | 1998 and before: Elites | |
| 7 | | Alexis Leclercq | 03/05/2016 | / | 1998 and before: Elites | |
| 8 | | Angelo Declercq | 02/05/2016 | Camabike-bomber | 1998 and before: Elites | |
| 9 | | Angelo Pozzallo | 20/04/2016 | / | 1998 and before: Elites | |
| 10 | | Anthony Formisano | 24/04/2016 | Comité régional liege | 1998 and before: Elites | |
| 11 | | Antoine Giuliani | 24/04/2016 | / | 1999 - 2000: Juniors | |
| 12 | | Antoine Herinne | 28/04/2016 | / | 1998 and before: Elites | |
| 13 | | Arnaud Pardoens | 25/04/2016 | vélo Tout Terrain Chaumontais / Team Haute-Marne | 2001 - 2002: Youth | |
| 14 | | Audric Weytsman | 20/04/2016 | / | 2001 - 2002: Youth | - 20 € |
| 15 | | Augustin Hengen | 02/05/2016 | ISG Racing Team | 1998 and before: Elites | |
| 16 | | Aurélien Helfer | 29/04/2016 | ABLR | 1998 and before: Elites | |
| 17 | | Aurelio Pastror Tejada | 19/04/2016 | / | 1987 - 1978: Masters 1 | |
| 18 | | Aymerick Morreels | 24/04/2016 | Antennabike | 2001 - 2002: Youth | |
| 19 | | Baptiste Michaux | 24/04/2016 | / | 1999 - 2000: Juniors | |
| 20 | | Bastien Renard | 27/04/2016 | GT Wallonia | 1998 and before: Elites | |
| 21 | | Ben Vanhoof | 25/04/2016 | / | 1998 and before: Elites | |
| 22 | | Benjamin Minet | 27/04/2016 | bike infinity | 1987 - 1978: Masters 1 | |
| 23 | | Benoît Fichaux | 03/05/2016 | Cranks n' Chains / UCNE | 1998 and before: Elites | |
| 24 | | Benoit Kaye | 24/04/2016 | / | 1999 - 2000: Juniors | |
| 25 | | Benoit Stoclet | 19/04/2016 | Kitchen Bike | 1987 - 1978: Masters 1 | |
| 26 | | Bruno Brodure | 24/04/2016 | Malmedy Mountain BIKE Team | | |
| 27 | | Bruno Lemos | 22/04/2016 | Ja rosny / singlebikes | 1998 and before: Elites | |
| 28 | | Bryan Godfrin | 26/04/2016 | / | 1998 and before: Elites | |
| 29 | | Cedric Meersman | 05/05/2016 | / | 1998 and before: Elites | |
| 30 | | Cédric Mounoussamy Carpaye | 30/04/2016 | / | 1987 - 1978: Masters 1 | |
| 31 | | Christian Makarski | 25/04/2016 | Geländefahrrad Aachen | 1987 - 1978: Masters 1 | |
| 32 | | Christophe Dhont | 02/05/2016 | / | 1977 and before: Masters 2 | |
| 33 | | Christophe Ibens | 28/04/2016 | B2R team | 2001 - 2002: Youth | |
| 34 | | Clayde Van Steenwinkel | 26/04/2016 | / | 1998 and before: Elites | |
| 35 | | Clément Hengen | 19/04/2016 | STARTING LINE | 2001 - 2002: Youth | |
| 36 | | Corenthin Balsacq | 19/04/2016 | / | 1998 and before: Elites | |
| 37 | | Cyril Mahiat | 01/05/2016 | / | 1999 - 2000: Juniors | |
| 38 | | Daan Roosens | 06/05/2016 | Ikkomiszien | 1998 and before: Elites | |
| 39 | | Damien Gigot | 25/04/2016 | / | 1998 and before: Elites | |
| 40 | | Damien Remy | 20/04/2016 | 5crew | 1998 and before: Elites | |
| 41 | | Daniel Ludwig | 24/04/2016 | IK-PivotCyclesGermany | 1998 and before: Elites | |
| 42 | | Daniël Wiessing | 18/05/2016 | G&G Bikes | 1998 and before: Elites | |
| 43 | | David Coppejans | 02/05/2016 | / | 1977 and before: Masters 2 | |
| 44 | | David Deryck | 19/04/2016 | Dabomb / Fouriers / MicroclairSports | 1998 and before: Elites | |
| 45 | | David Happekotte | 21/04/2016 | / | 1987 - 1978: Masters 1 | |
| 46 | | Dominik Jürgen-Schellert | 05/05/2016 | BikeMeister Racing | 1998 and before: Elites | |
| 47 | | Dylan Honay | 25/04/2016 | / | 1998 and before: Elites | |
| 48 | | Fabien Roufosse | 06/05/2016 | Dh team g skin rares niner | 1998 and before: Elites | |
| 49 | | Felix Benoit | 28/04/2016 | Sickest Riders Team | 1998 and before: Elites | |
| 50 | | Florent Gaillard | 23/04/2016 | Dcteam mtb | 1998 and before: Elites | |
| 51 | | Florent Jacquet | 19/04/2016 | DCTEAM MTB TEAM | 1999 - 2000: Juniors | |
| 52 | | Florent Vesselle | 01/05/2016 | ABLR | 1998 and before: Elites | |
| 53 | | Gatien Minet | 23/04/2016 | BadRiders | 1998 and before: Elites | |
| 54 | | Gatien Tombeur | 02/05/2016 | / | 1999 - 2000: Juniors | |
| 55 | | Gauthier Jadot | 05/05/2016 | / | 1998 and before: Elites | |
| 56 | | Gilles Boux | 22/05/2016 | / | 2001 - 2002: Youth | |
| 57 | | Gilles Scigala | 20/04/2016 | Xtreme Gravity | 2001 - 2002: Youth | |
| 58 | | Gregoire Pazdziorko | 29/04/2016 | Devinci Gravity Team | 1998 and before: Elites | |
| 59 | | Gregory De Neve | 21/04/2016 | / | 1998 and before: Elites | |
| 60 | | Harith Noah Koitha Veettil | 23/04/2016 | / | 1998 and before: Elites | |
| 61 | | Hugo Lateltin | 22/04/2016 | team MOUMOUNE/vtt oceane/ endhuro76 | 1998 and before: Elites | |
| 62 | | Ivo Tripunovic | 29/04/2016 | PUFNA FUN | 1987 - 1978: Masters 1 | |
| 63 | | Jacquemin Gilles | 28/04/2016 | superbikers | 1999 - 2000: Juniors | |
| 64 | | Jan Denuwelaere | 22/04/2016 | crelan-vastgoedservice | 1998 and before: Elites | |
| 65 | | Jan Hulshof | 12/05/2016 | Cross the Forest | 1999 - 2000: Juniors | |
| 66 | | Jarod Finance | 19/04/2016 | Evolution vtt saint die | 2001 - 2002: Youth | |
| 67 | | Jean-Christophe Fastres | 19/04/2016 | / | 1987 - 1978: Masters 1 | |
| 68 | | Jean-Francois Noel | 23/04/2016 | Dcteam MTB | 1998 and before: Elites | |
| 69 | | Jelle Hemelsoen | 23/04/2016 | Loose Riders | 1987 - 1978: Masters 1 | |
| 70 | | Jeppe Bob Bertelsen | 27/04/2016 | Bertelsen.nu | 1998 and before: Elites | |
| 71 | | Jerome Bourgeois | 24/04/2016 | / | 1987 - 1978: Masters 1 | |
| 72 | | Jesse Van Hilten | 24/04/2016 | / | 1999 - 2000: Juniors | |
| 73 | | Jonathan Fossion | 30/04/2016 | / | 1998 and before: Elites | |
| 74 | | Jordan Collin | 26/04/2016 | / | 1998 and before: Elites | |
| 75 | | Jordan Lizin | 24/04/2016 | DCTEAM Mtb Team | 1998 and before: Elites | |
| 76 | | Jordy Constant | 21/04/2016 | Starting line | 1998 and before: Elites | |
| 77 | | Jorrit Wijsen | 01/05/2016 | Bike Departement | 2001 - 2002: Youth | |
| 78 | | Joshua Lempereur | 24/04/2016 | / | 1998 and before: Elites | |
| 79 | | Julien Blavier | 24/04/2016 | Espace Bike | 1998 and before: Elites | |
| 80 | | Julien Coeymans | 24/04/2016 | / | 1998 and before: Elites | |
| 81 | | Julien Delooz | 25/04/2016 | DC-team Bike | 1998 and before: Elites | |
| 82 | | Julien Hansoul | 26/04/2016 | / | 1987 - 1978: Masters 1 | |
| 83 | | Justin Legros | 25/04/2016 | / | 1998 and before: Elites | |
| 84 | | Karl Heidbreder | 01/05/2016 | / | 1998 and before: Elites | |
| 85 | | Kenny Fauvernier | 25/04/2016 | TEAM HAUTE MARNE | 1998 and before: Elites | |
| 86 | | Kevin Den Beer | 25/04/2016 | Progravity | 1987 - 1978: Masters 1 | |
| 87 | | Kevin Geil | 20/04/2016 | FastForward | 1998 and before: Elites | |
| 88 | | Kevin Vanwetswinkel | 04/05/2016 | / | 1998 and before: Elites | |
| 89 | | Koen Horemans | 21/04/2016 | BIKE ARENA - MONDRAKER | 1977 and before: Masters 2 | |
| 90 | | Koen Vernelen | 23/04/2016 | / | 1998 and before: Elites | |
| 91 | | Koert Vink | 26/04/2016 | Progravity.nl | 1998 and before: Elites | |
| 92 | | Kristof Lenssens | 29/04/2016 | The Barracuda Company | 1987 - 1978: Masters 1 | |
| 93 | | Laurence Vuylsteke | 20/04/2016 | 4-bikes | Women | |
| 94 | | Laurent Jacquemin | 25/04/2016 | Adrénaline crew | 1998 and before: Elites | |
| 95 | | Lioust Marc | 03/05/2016 | VTT Océane | 1998 and before: Elites | |
| 96 | | Loic Giller | 20/04/2016 | Twenty Bicycle | 1998 and before: Elites | |
| 97 | | Lorent Julien | 25/04/2016 | Starting Line | 2001 - 2002: Youth | |
| 98 | | Lorenzo Lima Blaise | 25/04/2016 | COMITE REGIONAL LIEGE | 1998 and before: Elites | |
| 99 | | Louis Peltier | 20/04/2016 | Funbike Algrange | 2001 - 2002: Youth | |
| 100 | | Lucas Fransolet | 25/04/2016 | Xtrem Gravity | 2001 - 2002: Youth | |
| 101 | | Ludwig Lecrenier | 24/04/2016 | / | 1999 - 2000: Juniors | |
| 102 | | Mallori Raimondi | 22/04/2016 | / | 1998 and before: Elites | |
| 103 | | Marco Paulo Henrique Lemos | 02/05/2016 | JA Rosny / single bikes | 1998 and before: Elites | |
| 104 | | Marin Van Der Heide | 23/04/2016 | / | 1998 and before: Elites | |
| 105 | | Martin Collin | 03/05/2016 | G-skin Raes Niner | 1999 - 2000: Juniors | |
| 106 | | Martin Michaux | 25/04/2016 | DreamTeam | 2001 - 2002: Youth | |
| 107 | | Marvin Collard | 27/04/2016 | LUXBIKES | 1998 and before: Elites | |
| 108 | | Matteo Melan | 25/04/2016 | 5crew | 1999 - 2000: Juniors | |
| 109 | | Matteo Varotto | 25/04/2016 | Xtreme Gravity | 1999 - 2000: Juniors | |
| 110 | | Maxence Payen | 29/04/2016 | GBRC | 1998 and before: Elites | |
| 111 | | Maxime Englebert | 01/05/2016 | Luxbikes | 1999 - 2000: Juniors | |
| 112 | | Maxime Fransolet | 25/04/2016 | Xtreme Gravity Team | 1998 and before: Elites | |
| 113 | | Maxime Madoux | 20/04/2016 | SPORTS CARBONE | 1987 - 1978: Masters 1 | |
| 114 | | Maxime Storck | 30/04/2016 | Molsheim Fun Bike Team | 1999 - 2000: Juniors | |
| 115 | | Michael Goossens | 26/04/2016 | / | 1987 - 1978: Masters 1 | |
| 116 | | Michael Krüger | 21/04/2016 | Team Bodenhaftung/ DIMB Racing Team | 1977 and before: Masters 2 | |
| 117 | | Michael Testelmans | 28/04/2016 | ///// | 1998 and before: Elites | |
| 118 | | Moritz Wirth | 07/05/2016 | / | 1999 - 2000: Juniors | |
| 119 | | Mourad Bencherchali | 20/04/2016 | / | 1998 and before: Elites | |
| 120 | | Nic Bennett Kaschub | 20/04/2016 | DIMB Racing Team / HTF Racing | 1998 and before: Elites | |
| 121 | | Nico Cobbaert | 19/04/2016 | DH Team Acerbis 4 You | 1998 and before: Elites | |
| 122 | | Nico Simon | 05/05/2016 | DCTEAM - Bike / 100% | 1998 and before: Elites | |
| 123 | | Nicolas Close | 27/04/2016 | 5CREW | 1998 and before: Elites | |
| 124 | | Nicolas Mathieu | 27/04/2016 | DC Team / GT 100% | 1998 and before: Elites | |
| 125 | | Océane Husson | 19/04/2016 | Evolution vtt saint die | Women | |
| 126 | | Pardoens Thomas | 25/04/2016 | Vélo Tout Terrain Chaumontais | 1998 and before: Elites | |
| 127 | | Patrick Almeida | 28/04/2016 | JEANNE D'ARC ROSNY / SINGLEBIKES | 1998 and before: Elites | |
| 128 | | Patrick Wolff | 20/04/2016 | XRida | 1998 and before: Elites | |
| 129 | | Paulo Manuel Marques Dos Santos | 20/04/2016 | / | 1998 and before: Elites | |
| 130 | | Pierre-Alexandre Vincent | 25/04/2016 | section hennuyere | 1987 - 1978: Masters 1 | |
| 131 | | Quentin Masy | 24/04/2016 | / | 1998 and before: Elites | |
| 132 | | Quentin Scailteur | 25/04/2016 | / | 1998 and before: Elites | |
| 133 | | Raphael Valange | 21/04/2016 | / | 2001 - 2002: Youth | |
| 134 | | Rens Dedecker | 02/05/2016 | / | 1998 and before: Elites | |
| 135 | | Robin Matot | 19/04/2016 | Devinci Gravity Team | 1998 and before: Elites | |
| 136 | | Romain Toussaint | 02/05/2016 | STARTING LINE | 1998 and before: Elites | |
| 137 | | Romuald Laplanche | 19/04/2016 | FR FAULX WAGON DH | 1998 and before: Elites | |
| 138 | | Ronald Jamar | 27/04/2016 | / | 1977 and before: Masters 2 | |
| 139 | | Ronald Vranken | 24/04/2016 | Bike ARENA/mondraker | 1977 and before: Masters 2 | |
| 140 | | Roos Op De Beeck | 20/04/2016 | Swooth MTB Team | Women | |
| 141 | | Ruben Dony | 02/05/2016 | / | 1998 and before: Elites | |
| 142 | | Sacha Rosmant | 24/04/2016 | DC Team | 1998 and before: Elites | |
| 143 | | Sammy Van De Walle | 23/04/2016 | Bomber - Camabike | 1987 - 1978: Masters 1 | |
| 144 | | Simon Botte | 20/04/2016 | / | 2001 - 2002: Youth | |
| 145 | | Simon Moermans | 24/04/2016 | / | 1999 - 2000: Juniors | |
| 146 | | Stephan Van Waeyenberghe | 25/04/2016 | 5crew | 1998 and before: Elites | |
| 147 | | Steven Lemmens | 28/04/2016 | / | 1977 and before: Masters 2 | |
| 148 | | Stijn Van Hoyweghen | 23/04/2016 | Loose Riders | 1998 and before: Elites | |
| 149 | | Tanguy De Cock | 25/04/2016 | STARTING LINE / TANGUY BIKE SHOP Racing | 1999 - 2000: Juniors | |
| 150 | | Tanguy Nicole | 29/04/2016 | ABLR / Ryde-Racing | 1998 and before: Elites | |
| 151 | | Teo Bouteloup | 01/05/2016 | jaquie et michel team manager | 2001 - 2002: Youth | |
| 152 | | Thibault Hess | 30/04/2016 | / | 1999 - 2000: Juniors | |
| 153 | | Thibaut Rosmant | 24/04/2016 | DCTeam | 1998 and before: Elites | |
| 154 | | Thomas Beauquesne | 23/04/2016 | redster rideurs | 1998 and before: Elites | |
| 155 | | Thomas Rapeau | 26/04/2016 | / | 1998 and before: Elites | |
| 156 | | Thorsten Suckow-Homberg | 21/04/2016 | kuchenrun.de Racing Team | 1977 and before: Masters 2 | |
| 157 | | Tim Van Esch | 19/04/2016 | Polygon Benelux | 1998 and before: Elites | |
| 158 | | Tom Boonen | 22/04/2016 | Ardennes bike | 2001 - 2002: Youth | |
| 159 | | Tom Timmermans | 19/04/2016 | ecw | 1999 - 2000: Juniors | |
| 160 | | Tristan Beau | 21/04/2016 | starting line | 1998 and before: Elites | |
| 161 | | Tristan Defenfe | 19/04/2016 | DC Team | 1998 and before: Elites | |
| 162 | | Troisfontaine Raoul | 23/04/2016 | / | 1998 and before: Elites | |
| 163 | | Ugo Dejardin | 19/04/2016 | Bi Cross Soumagne | 2001 - 2002: Youth | |
| 164 | | Valentin Combes | 28/04/2016 | / | 1998 and before: Elites | |
| 165 | | Valentin Feront | 24/04/2016 | Starting Line | 1999 - 2000: Juniors | |
| 166 | | Vince Moonen | 26/04/2016 | Bike Departement | 1998 and before: Elites | |
| 167 | | Vincent Lecuit | 27/04/2016 | WOODBIKE TEAM | 1998 and before: Elites | |
| 168 | | Vincent Raviart | 25/04/2016 | / | 1998 and before: Elites | |
| 169 | | Vincent Vandersmissen | 29/04/2016 | //////// | 1998 and before: Elites | |
| 170 | | Vincenzo Lazzara | 20/04/2016 | Xtreme Gravity | 1999 - 2000: Juniors | |
| 171 | | Ward De Prins | 29/04/2016 | Loose Riders | 1999 - 2000: Juniors | |
| 172 | | Warren Bellet | 21/04/2016 | / | 1998 and before: Elites | |
| 173 | | Wesley Ilegems | 23/04/2016 | Loose Riders Belgium / Bike The World Belgium / DirtE19 | 1987 - 1978: Masters 1 | |
| 174 | | William Barsin | 02/05/2016 | Kyoz Store liège | 1998 and before: Elites | |
| 175 | | William Bodart | 27/04/2016 | / | 1998 and before: Elites | |
| 176 | | William Masset | 24/04/2016 | / | 2001 - 2002: Youth | |
| 177 | | Wim Robbrecht | 22/04/2016 | / | 1987 - 1978: Masters 1 | |
| 178 | | Yannick Bargibant | 19/05/2016 | VAL D'ISERE | 1977 and before: Masters 2 | |